Christmas Greeting from Teresa
Greetings In His Name!!
"Do not be afraid. I bring you good news of great joy that will be for all nations. Today in the town of David a Saviour has been born to you; He is Christ the Lord" Luke 2:11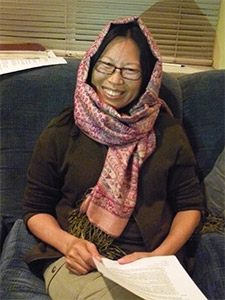 Merry Christmas!! Nine more days to Christmas, it's 25 degree, sunny and warm outside. After the whirlwind of events throughout the week, I sit right by the window on the 11th floor, quietly but not so quiet as the sound of traffic wages on, I wonder what is going on in your life, what you would be doing this Christmas.
The scene of the last two days is now taking the stage. In the care home, a team of 10 of us, volunteers and missionaries, in preparation for taking over its operation in three months, set out in pairs to do our due diligence, to evaluate the current operation of this government owned facility. With clip boards on hand, broad smile on our face, and with alert eyes and mind, we surveyed every inch of ground and interviewed as many as we could encounter.
The staff was friendly and cooperative, the administrator was passionate about her Buddha, busy building merits for her family in everything she does, the residents, mostly in their eighties and nineties sang praises to the government and their beloved administrator and the locals who donated material to the care home. The place was clean, there was no smell, corridors were cleared, and simple but delicious meals were served to rooms. Things look good on the surface for a while.
[quote]Soon hidden issues surfaced.[/quote] Soon hidden issues surfaced. On one floor, a man with week sight moved in last year. He was left alone in his room. His window shut and door closed, not voluntarily but by the staff; they figured that light has no use by a man half blind. He lived in the dark; he turned completely blind in several months. A lady with dementia sits on her bed the whole day. To keep her safe, she is shut in her little dark room. The only time she can connect with people is when meals are delivered or when her family comes to visit. When I touched her head, she held my hands tightly, saying, "I won't let you go…Don't go." Another woman was having a bad day; she refused to change her clothing. The care-aid yelled at her, ripped her clothes apart, she was forced to change.
On another floor where people cannot control their bowel, they were made to sit on the commode chair for hours so as to save the expenses on diapers – no curtain drawn, no concern for privacy and dignity, only easy handling for the workers. Then it came the hour for bathing. Buckets of hot water were either wheeled or carried by the residents to their bedrooms. Water spilled all over the marble floor; it's wet and slippery everywhere. We soon found out that most of the bed-ridden is caused by fall on the slippery ground. The on-site doctor is the "doc of all germs", he patches wounds with germ filled cotton, touches everything and everyone bare-handedly and without washing……
[quote]I am indeed blessed.[/quote]
Back to this little one; I am indeed blessed. By the grace of our Lord, I am now adjusting well to the new environment. I appreciate more the selfless attitude and actions of this new team, see more miracles happening daily; whenever need arises, a fitting person would be added to the team, the way our Lord summons His people is incredible. Soon this free apartment will no longer be available but the Lord has made another one open for free for another two months. There is no washer, dryer, rice cooker but I have a friend nearby, she buys me meals and I have unrestricted access to her laundry machine. There is no credit card, name card and permanent address, not yet, but when I look up I know for sure what my name is, He has given me unlimited credit – the lot reserved for His priests and Levites, and He has reserved for me a permanent address in Heaven. In and through all these, I am learning better what it is to "œlive simply" and "œrelate deeply".
Due to religious sensitivity here, our organizaton is still trying to figure out what to do with me. Up till this day and time, my identity and role remains fluid; in front of believers, the missionary, in front of the government, the development consultant, in front of non-believers and especially businessmen, one of them, in practice, the "jack of all trades" – the piece that holds the loose ends together. Clearly defined role and responsibilities doesn't matter so much for now; it matters now that the Lord has said to me, "for this time and reason, you are here", it matters now that I remember when our Blessed Lord came the first time, He knew that how hard the road ahead would be, but for the Love of the Father, He came anyways. So I just follow.
Looking ahead, there will still be months of strategic planning, working with the team in the office, having negotiations with the government, and vision casting among team members and potential partners. There will be times, like today and a few other days in the past, hanging heavy with lonesomeness and inadequacy. Thankfully, Luke 15: 6-7, 9-10, 32 keep spurring me on; the verses spur me to anticipate the excitement of telling the lost found, the sick healed, the vulnerable and the broken comforted; to anticipate the exuberant joy shared in Heaven and on earth; and to look forward to the blessing of aligning with His joy and sorrow poured upon you and me. I long to see the seniors, the staff and even the administrator of that care home being saved; can't wait to share the Lord's joy of finding the lost, healing the sick, delivering those in prison. It will take time yet not too long. Even on Christmas day, I'll be leading a group of 30 to bring joy to another care home in China, and on the 26th and 27th, worshipping with approx. 1000 mission workers in another city in China. What about you? Would you share with me the same anticipation and longing in this Christmas Season?
May the Lord's joy be the joy of your Christmas and New Year!!
Serving with you,
Teresa